Chapter 32: Hunting for Gomez at the Border of Crazy
And they lived happily ever after…the words every little girl and boy knew by heart. The ending to every fairy tale ever told. Can you remember the first time you heard those words? That incredible hope that invaded your heart… with those six words, love was supposed to mean forever.
Well, I call bullshit! Like the ending to every single '90s, Rom-Com film…they didn't show the aftermath once the credits rolled. They didn't show the ugly truth about love, that it was only part of what is needed to make a relationship work.
How can the love that makes you feel on top of the world, stand the test of time? Especially with all the outside influences of kids, work, family, friends? How can it survive the tumultuous nature of life? From getting jobs to losing jobs…from sickness…family arguments, financial ruin, etc. etc. etc. The fairytales and movies only sold you on the beauty of love…never the ugly.
I, for one, found out very quickly that love and relationships are two separate things. Love is essentially what inspires you to take that long walk down the aisle…but it's NOT what gets you through the ups and downs and mundane aspects of life. Raising kids alone should be a two -year college course. Your BA should be mastering everyday chores without killing each other.
I mean really, cleaning up a diarrhea-filled diaper on two hours sleep is enough to strip the romance out of any fairy tale. Writers never showed Cinderella and Prince Charming with the flu, taking out the trash or getting the kids into the car while on a conference call as you spill coffee down your white blouse before a big meeting with your CEO.
And yet, there is one love story that I recently rediscovered that embodies #relationshipgoals, that truly stands the test of time. A love story that I totally forgot about until I moved to Westfield, NJ.
Last fall, after living in Westfield for a year and a half, they announced the Addams Fest. What I came to find out is that Westfield is the home to Charles Addams, the creator of the Addams Family. The house he crafted for the Addams family was influenced by some of the old Victorian homes in Westfield.
Westfieldians are very proud of this part of our nearly 300-year history. Mr. Addams is an icon in Westfield, a community that embraces the quirky, artistic, and creative, even the macabre. As I learned, Addams Fest had been in the works for many years, but it wasn't until our new mayor, Shelly Brindle, took the seat and launched Addams Fest in 2018.
Once I found this out, I knew I had found my forever home. I found my tribe and community.
Since moving to Westfield over two years ago, I find myself being a "joiner." Honestly, I have never been more involved in my community. I've become a member of the Advertising Men and Women of Westfield and signed up for ballroom classes at Westfield Ballroom School, www.westfieldballroom.com, where I've met many new forever friends.
Ironically, I first discovered the Addams Fest at Westfield Ballroom. The teachers invited students to participate in a group performance at the Addams Fest Biergarten. I was so excited! I miss performing, and this was my chance to live out my childhood dreams. We performed the Cha-Cha to a remix of MJ's Thriller…I dressed as a zombie and got interviewed by a reporter from https://www.tapinto.net/towns/westfield/.
This is where worlds collide. Around the same time, I met Westfield's City Councilwoman, Dawn Mackey, at a networking event for the Ad Men and Women of Westfield. I asked her how I could get involved in the 2019 program. She invited me to become the chairperson of the Addams Fest Masquerade Ball that takes place at the James Ward Mansion.
How could I say no? I got my wish, and I was all in!
As any marketer would do, I delved into my subjects. As part of my duties, I was asked to orchestrate the performers and décor. Which included bringing the elegance and kitsch of Morticia and Gomez to life. There was to be a performance of the Tango, Mamuska, and Tarantella, which required me to work with dancers from the Westfield Ballroom School and the "resident" Addams Family actors.
So, I turn to Google and begin to explore the magic and mystery of Gomez and Morticia…and here's what I learned about real love.
Their love is sheer poetry. It's deeply passionate…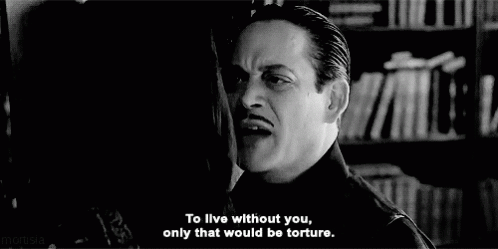 They are quirky and eccentric and accept their version of weird. Their love is intermingled with pain and joy. Gomez loves Morticia's brand of crazy…and vice versa.
They have their own version of family fun…they are devoted parents and encourage Wednesday and Pugsley's independence and freakish experiments.
And, of course, with all this research, I started getting articles served to me on Facebook about Morticia and Gomez, and about two weeks ago I found this post from Buzzfeed!
https://www.buzzfeed.com/sbkasulke/gomez-and-morticia-addams-have-the-best-marriage-ever
After being so inspired by their love, one lonely night I looked up at the stars and challenged the universe. Don't bring me Prince Charming or Lloyd Dobler…please find me my Gomez! Someone who loves my ugly as much as the pretty. A man who sees my flaws as perfection, who is willing to stand beside me through the shit and drudgery of life and make it sparkle.
Well, low and behold, I have the most amazing news! The universe answered my challenge…and delivered me the magic I've been coveting and craving for nearly 46 years. And I met him at a Pirate party. But I'll save that wicked love story for a future blog…Coming to the Daily Feels very soon! (shameless plug).
Before I go, I'd like to give a gift to the Fans of the Feels. In the spirit of sharing, here is the hauntingly fun playlist I created for the Addams Fest Masquerade Ball, right in time for Halloween!  
Black Cherry's Addams Fest Playlist
Warren Zevon – Werewolves in London
Bobby "Boris" Pickett – Monster Mash
Addams Family Theme
Modest Mouse – Float On
Kiss – I Was Made for Loving You
Fifth Harmony – I'm in Love with a Monster
Depeche mode – Personal Jesus
Duran Duran – Hungry Like a Wolf
Steve Miller Band – Abracadabra
Santana – Black Magic Woman
Rockwell – Somebody's Watching Me
AC/DC – Highway to Hell
AC/DC – Hells Bells
Little Shop of Horrors Theme Song
The Troggs – Wild Thing
Rocky Horror Picture Show – Time Warp
Oingo Boingo – Weird Science
Thomas Dolby – She Blinded Me With Science
Sheb Wooley – Purple People Eater
Cage the Elephant – Ain't No Rest for the Wicked
Stevie Wonder – Superstition
INXS – Devil Inside
Van Halen – Runnin' with the Devil
The Rolling Stones – Sympathy for the Devil
Elvia Presley – The Devil in Disguise
The Clovers – Love Potion No. 9
Eagles – Witchy Woman
DJ Jazzy Jeff & The Fresh Prince – A Nightmare on My Street
Credence Clearwater Revival- Bad Moon Rising
Britney Spears – Toxic
Corey Hart – Sunglasses at Night
Run DMC – It's Tricky
Toploader – Dancing in the Moonlight
Chic – Le Freak
Fine Young Cannibals – She Drives Me Crazy
Soft Cell – Tainted Love
Fugees – Killing Me Softly With His Song
---
Cherry Maggiore is the proud single mom of her 9-year-old super-sassy daughter (aka Miss Sassy Pants or MSP) and 15-year-old pug baby (Tiki Barber); in addition to being an award-winning senior marketing executive at NBCUniversal.
Beside her side hustle as the Freak of Nurture, she also started a home design company after being inspired by renovating and designing her 1880's home in NJ.
This insanely curious and passionate "multi-potentialite" can be found dancing the Argentinan tango, swing and Hustle every Saturday, cooking her family an Italian Sunday dinner, singing and air drumming at concerts or searching for her next adventure.