HAPPY BIRTHDAY, AMERICA! I salute you and my fellow Americans and the sacrifices so many have made and still do! Much "Wisdom" is in all of these Firsts! Yes, history does repeat itself but it's our job, in life, to extract all the good and continually build on it so life can become better for all who will follow!
The Fourth of July, a commemorative occasion in so many ways! This new idea of independence, of freedom, became our cornerstone. This is my tribute to America; (243 years old) the 4th of July 2019! This blog is my birthday card to America! And what is a historic event without a cake? A 200-pound cake with as many tiers! This way, all in attendance can enjoy a "bite and bit of history!"
First, a tribute to Betsy Ross, the maker of our first American flag! It's a bit dubious who the real originator of our flag is…! According to Ross' grandson, William J. Canby, claims his grandmother was the first originator of our flag. According to Betsy, General Washington shared a draft of a rugged design of the "flag" but with thirteen stars and each star with six points! But Betsy, in her infinite wisdom and crafty sewer's hands, immediately, showed the General how much quicker it was to cut out a five-point star! So on June 14, 1777, Congress officially adopted the Stars and Stripes as our national flag! Some historians believe that our Flag's colors came from the three colors the Founding Fathers served under. Red, White, and Blue! Imagine waiting a whole year for a Birthday cake! But even longer to observe this date!
When I was working for the Town of Harrison, on one occasion, we distinguished Independence Day by dressing like the people of the era. I chose Betsy Ross. I had the flag draped across my desk as though I were sewing it. It was memorable and at days end, we were exhausted. Not because of the activities of our make-believe day but because of the clothing we wore! We replicated the costumes of that era. Tight girdles, hoops, layers of slips and skirts. We wore bonnets and shawls, as well. The most difficult part of the day was when we ladies had to visit the 'Ladies room!' Our costumes were larger than our stalls! We all laughed about this and showed more respect towards the women of yesteryear.
Another of America's great firsts is The Constitution of the United States! This was drafted in Philadelphia in 1787 by fifty-five men! So many nationalities have struggled to come to our shores…..to freedom! The very essence of our Constitution! In case you have forgotten the words.."We the people of the United States, in Order, to form a more perfect Union……….."
Another first is the poem, The Star Spangled Banner, written by Francis Scott Key. As Francis looked out of his cell window, he saw our Flag blowing in the wind and wrote those famous words, "O Say Can You See..!" History can be boring but it's in these narratives or nuggets" that a new light shines and our feelings are touched. Below I've described how Francis came to pen our glorious anthem!
History tells us that British troops had invaded Washington D. C. and burned the White House as well as the Library of Congress and were continuing on to Baltimore. It was at this time that F.S. Keys, a lawyer, was summoned to go to the enemy and ask for the release of Dr. William Beans who was taken prisoner by the British. Much to Scott's surprise he, too, was kept prisoner and they were both held by the British and would not be released until the bombardment of Fort Henry was completed. While this turmoil was happening, Keys was thrilled to see our glorious flag flying over the Fort and penned a few words in the form of a poem. His poem was printed in all newspapers and later set to music. We know it as The Star Spangled Banner! In 1916, Woodrow Wilson declared that it should be played at all official events! But it wasn't until 1931, more than one hundred years after it was composed that Congress passed a ruling declaring "The Star Spangled Banner" is our national anthem! Imagine waiting one hundred years to be relevant; to be noticed!
While these three points are the base of our beginnings, I want to share a story that took place on August 14, 1945! I love this story and I can relate to it. I was twelve years old. It has been named "The Kissing Statue!" Also referred to as the Unconditional Surrender Statue! Also known as V-J Day!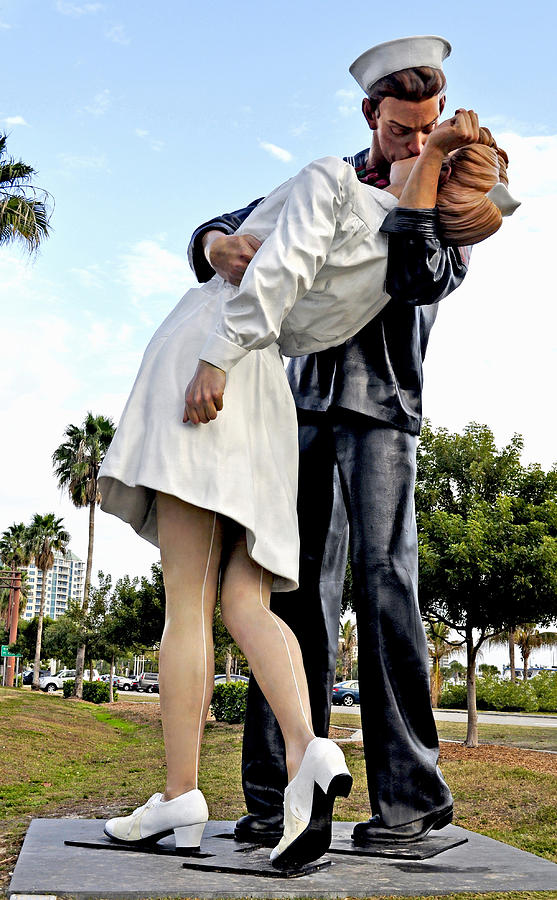 You must know it or you are certainly aware of it. It has quite a story behind it and if you look it up, you'll be filled with awe and tears. While I capitalize on the high lights, this photo captures the moment. Alfred Eisenstaedt is our photographer from Life magazine and he 's looking to capture a dramatic shot! One that will be seen world-wide! George Mendonsa, our sailor on leave, stepped out of Child's Restaurant hurriedly, forgetting his girlfriend. He grabbed the first girl he saw. A nurse, without her cap! Greta Zimmer was caught up in this "Kiss" of time and on Times Square! Eisenstaedt was right there! As though it had been preplanned! But was not! I still get chills when I read about it or visit the statue.
This magnificent piece of history now resides here on Sarasota Bay with the Gulf of Mexico as its backdrop and it looms large. All 25 feet of it on a small platform. It has traveled to San Francisco and NYC but Sarasota is its home. It did meet with resistance when it first arrived here. Some felt it was too cartoonish. It has had two accidents. One driver lost control and injured the sailor's leg. Someone defaced the nurse's leg but all is well. I passed by on Memorial day and it loomed tall. Many visitors stop for photo ops. It was purchased by a veteran and some friends and they, as a group, donated it to Sarasota.
George Mendonsa and his girl, who he later married, returned to Long Island and the next day he flew to San Francisco to his ship The Sullivans. Remember the Sullivan brothers? They insisted on being in the same branch of service. They served on the USS Juneau (CL-52). They all perished on the Juneau. Later, their mother christened a ship named after them. The Sullivans. I mentioned this because George Mendonsa served on The Sullivans.
We, too, are a great part of our history and its wisdom! Freedom is for all, not just for a few! HAPPY BIRTHDAY, AMERICA!
---
Nancy Fraioli is a retired Benefits Asst. from Town/Village of Harrison, NY. She's alive and well, residing in Sarasota with her daughter and family and enjoying the Floridian lifestyle daily.
Her passions are writing, reading books of philosophy, children's stories and poetry. Her deep love is living, learning and sharing how faith, meditation, and music guide her daily life. And she loves to lunch with the ladies!